Career & Jobs
"What's Happening to Job Searches During the Pandemic?"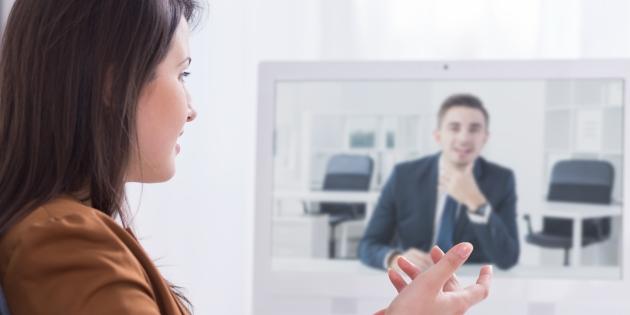 Photographee.eu / Shutterstock
The coronavirus pandemic is affecting the way higher education professionals work. Converting courses to distance modalities and adapting services remotely are well-acknowledged, but what about conducting searches for the people to do the work?
"We have seen a full range of institutional responses to the current conditions," said Sheila Murphy, a higher education search consultant at WittKieffer, an executive search firm that helps institutions across the country recruit for leadership positions. "There is a disruption in daily service on campuses and that includes job searches. For the most part, institutions are moving forward business as usual while trying to use all of the technological resources at their disposal to essentially replicate the conditions of a search."
The responses from institutions that Murphy has encountered include 1. switching semifinalist and finalist interviews to video conferencing, 2. keeping top candidates "warm" while extending the decision time frame, 3. alerting candidates that the search is "on hold" until further notice and continuing to accept new applicants, or 4. suspending the search and restarting it at a later date.
HigherEdJobs content managers have experienced instances where institutions are modifying the application deadlines on job postings or removing them, even if temporarily, because of hiring freezes. However, there are still some colleges and universities recruiting as usual, even if they are using different techniques.
Candidates should check the job posting for any updates and only email a hiring manager to check on the status if they have already been interviewed. Otherwise, delays in the search process should be expected.
While what WittKieffer has experienced is anecdotal, the firm is conducting hundreds of higher education searches, some of which were suspended but most of which are continuing. But how many searches will be completed without having a candidate set foot on campus?
"That's the great unknown," Murphy said. "The underside of that great unknown is the question of how many candidates would actually accept a job having never met their future boss or never having seen the campus or the city or town the campus is in."
Maybe you've heard we are "amid times of uncertainty," but nonetheless here are a few things to consider regarding what the coronavirus pandemic could mean for job searches:
(Re)making Small Talk
If in-person interviews are not possible with organizations following social distancing practices, candidates don't have opportunities to reveal their personality through the casual conversations that take place in open forums, between structured interviews, or over a meal with students and colleagues.
"Schools are trying to correct for that and we're seeing finalist visits where candidates are asked to do open presentations that are video-streamed to hundreds of people to replace an open meeting in an auditorium," Murphy said. "There's an attempt to replicate as many different situations as one typically encounters in the path through a search."
Institutions could also allow more space during video conferences for less structured conversation or ask more questions beyond how candidates demonstrate competencies to get a better sense of their personality. Candidates unfamiliar with video interviewing should attempt to have the same demeanor on screen as they would face-to-face, which could be practiced by chatting on Skype or Zoom with friends or colleagues in advance of the interview.
Higher Risk Aversion
In addition to the infrequent meetings of hiring committees, candidates dropping from consideration could cause searches to be extended.
"The way people feel about switching jobs often mirrors the way they feel about other decisions, too," Murphy said. "It seems likely that candidates will be more conservative and more risk-averse because of the economic stresses resulting from the coronavirus crisis. That will make it more important for candidates and hiring committees from the very beginning to try to identify the issues that will lead to a good and lasting appointment."
Just as candidates must be sure that their house is going to sell before taking a new job, there's also a small margin of error for institutions to make the right hire under economic uncertainty. As a candidate, you should make decisions based on research and long-term benefits, not fear and short-term losses. To correct for a status-quo bias, or an omission bias, which is a tendency to think of actions as being more harmful than inactions, evaluate a job offer against your existing job as if you were unemployed and had to choose. Or, present the hypothetical offers blindly to a trusted colleague for their input. Remember, deciding not to act is an action.
New Way to Work
The London Underground strike in 2014 disrupted public transportation forcing commuters to experiment with alternative routes to work. When the strike was over, 1 in 20 commuters stuck with their new route as a better option. The current remote method of interviewing candidates might change how some institutions conduct a search instead of "airport interviews" or candidates having to travel or miss work to attend an interview.
"It will be interesting to see if in the aftermath of the pandemic, upon reflection, people will say, 'This is a pretty good way to do a search; we could perhaps do things more economically or more technologically,'" Murphy said. "This could be one of these emergency phenomena that opens a window into a whole different way of thinking about searches."
New Type of Typos
Mistakes on application materials can be a fatal flaw for candidates. Yet, to date, employers tend to be more forgiving if a candidate fumbles with technology during a video conference. That could change now that people are expected to know how to use Zoom and Skype, and repeating "Can you see me?" behind an aw-shucks grin won't seem as innocent.
"The candidate has an opportunity to show that they're tech-savvy and they know how to communicate electronically," Murphy said. "I don't know how much more appealing this will make a candidate, but it has a downside (if you're not flawless). The candidate who's on mute and doesn't know it is the functional equivalent of the person submitting a cover letter full of typos."
Who's Coming and Going?
The financial crisis of 2008 saw many professionals switching sectors, such as those who worked in financial services flocking to more stable industries. Murphy said that people with expertise in online commerce and online delivery will now be in demand across all sectors, including higher education with its greater reliance on distance learning. But another aspect to consider is how regions of the country will recover, both physically and economically, from the coronavirus.
"There may be people who are ready to move out of a particular area and you can have a large workforce that's trying to relocate itself," Murphy said. "These things will need to be sorted out but the logic would suggest that people will need to think about where they're going to live with all the unknowns and how long it's going to take for those local economies to recover."
Patience on Both Sides
With delayed search processes, discussions confined to computer screens, and economic uncertainty, the coronavirus has adversely affected the higher education job search, leaving many challenges for both hiring committees and candidates.
"The question for institutions should be how clearly their leaders can see a path out and how well can they articulate to a candidate a persuasive sense that we're going to come out the other side of this, we're going to be fine, and we want to go on with our search," Murphy said. "As a candidate, you need to demonstrate that you have a commitment to the good of the community and that supersedes your need for clarity and answers in this moment."
For more updates check below links and stay updated with News AKMI.
Education || Technews || Auto Tech || Science News || Lifetime Fitness || Sports News || Giant Bikes

Source